Take an English Summer Course at one of England's longest established English Summer schools!
Manor Courses are based in the beautiful county of Sussex and situated close to the seaside city of Brighton and only approximately 20 minutes from Gatwick Airport.
Our English Summer Course runs during the summer months of July and August, accommodating all levels of ability and vary in length from 1 to 5 weeks.
English Summer course
Our English courses for young students take place on the self-contained campus of Hurstpierpoint College, also known as Hurst College, which is situated in the heart of the beautiful South Downs.
Our English Summer Course will help you:
Advance your English communication quickly and easily
Improve your English grammar knowledge
Develop your English communication confidence
Discover culture and places in UK, and in other students' countries
Share and report your summer experiences
Demonstrate your progress and recycle the language you have learnt
What does the English Summer course include?
Our General English course is delivered by qualified English teachers and is designed to help our students communicate more effectively and confidently in everyday situations.
We believe in small class size learning (maximum 15 students per class) as the best route to success in learning English. As one of the longest established language schools in England, we attract students from a wide range of nationalities. Our students benefit from this rich cultural mix and we encourage multilingual classes where we aim to mix 4 or more nationalities per class. This creates a dynamic learning environment for our students and broadens their learning opportunities.
Download the Manor Courses Summer School brochure by clicking on the PDF icon or text above.
General English Course Structure
We try to split our students into 2 age groups. So classes are comprised of either 8-14 or 11-17 year olds. All students receive a General English course of 18 hours per week. This is the average content over a week:
5 Language lessons – (90 minutes each)
5 Communication lessons – (90 minutes each)
3 Explore, Activity & Review lessons (60 minutes each).
Language Lessons
During English language lessons we focus on accuracy, developing grammar knowledge and usage. Learning English in these lessons typically includes the use of Cambridge University Press course books such as: Your Space, English in Mind and Interactive.
All content is reviewed in weekly Review Lessons and Progress Tests.
Communication Lessons
Our English Communication lessons are fun and engaging and focus on conversational skills and fluency. Giving students useful strategies to help improve their overall verbal communication. Learning is dynamic and students are given practical opportunities to learn about their other students' lives, contemporary topics, current issues, etc.
Explore and Activity Lessons
Learning through real life experiences is an essential component of the General English course. Lessons give students the opportunity to learn more about the United Kingdom by focusing on UK culture and history, in addition to other students' countries. These lessons give students opportunities to exchange information, and report and share their experiences at the Summer School and their participation in the Activity Programme.
Tailored content
Learning English happens across the entire programme at Manor Courses. All taught content is engaging, interactive, fun, challenging and informative. Our teachers rely on a wide range of materials and learning opportunities to provide a truly teacher-created yet student-centred course of learning that allows our students to learn English at a deeper level regardless of their stage, learning style or ability.
English learning tailored to ability
Appropriate levels for every child. We provide classes for all levels of ability, but we assume students have already had some exposure to English (either formal education or informal experience).
We provide 3 classes for each of 6 levels: beginners to advanced (or Common European Framework of Reference for Languages (CEFR) levels A1 to C1).
Accurate level placement test at the start: We use a 'Quick Placement Test' (it tests grammar, vocabulary and reading) and an interview to assess oral ability. Students are placed into classes according to their language ability, nationality and age.
Review lessons and monitored learning. At the end of each we review each students' progress and at the end of their stay we provide each student with a Manor Courses certificate of attendance and progress report.
English Course Timetable
Each morning students have 2 teachers and 2 different kinds of lessons – this gives students a variety of teaching styles, accents, ages, nationality, gender etc. After break students change classrooms and teachers.
Lessons 1 & 2 – from 9:30-11:00am and 11:30am-1:00pm (5 times per week). These are 90 minute 'Language' or 'Communication' lessons.
Breaks – students leave class for a 30 minute refreshment break, 11:00-11:30am.
Lesson 3 – from 2:00-3:00pm (three times a week). These are 60 minute 'Explore' (excursions and culture), 'Activity' or 'Review' lessons. After lunch students return to the same room as lesson 1.
Variations: Once a week 2 classes may be combined for a joint lesson with one teacher. Students may only receive a full complement of 18hrs per week tuition only if they depart after lesson 2 on their day of departure.
The
Manor Courses

English Course has clear goals, clear content and 5 clear lesson types.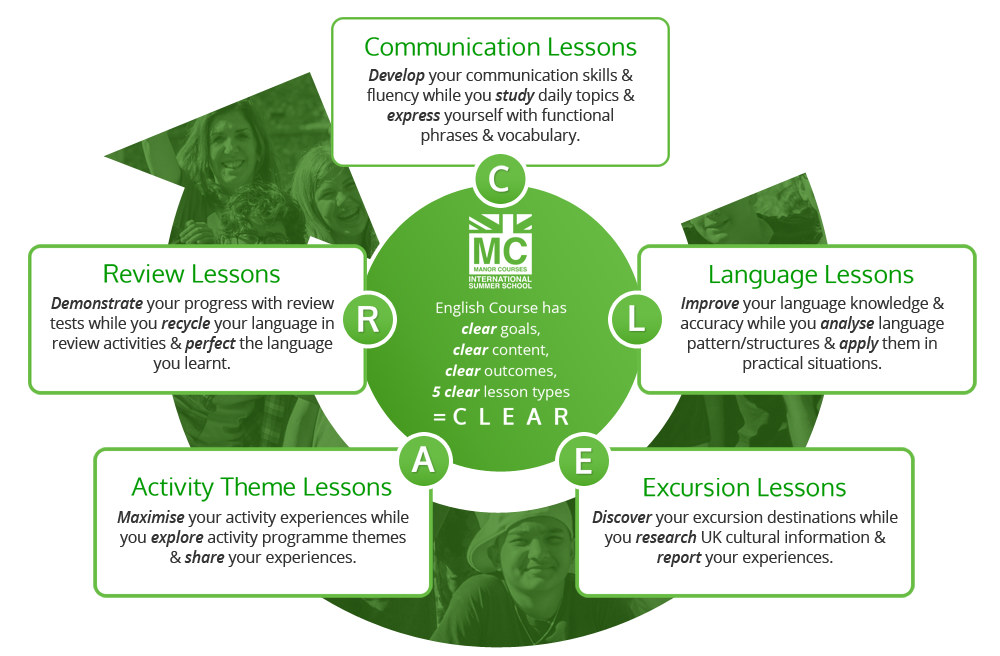 Manor Courses

Summer School Videos
Watch our videos to get a flavour for what you can expect this Summer when you are learning English at Manor Courses.
Our general promotional video from 2016, below:
A look at our Activities programme, below:
A look at our English course, below:
An overview of life at MC and our Welfare services, below:
Talent Show 2019, part of our performing arts, below:
A new general promotional video from 2019, below:
Some students give their feedback, below:
Circus skills workshops were new this year, below:
English Course Booking & Enrolment. Get started today.
"We spent two wonderful weeks in Hurst and everything went really well with the experienced academic staff in terms of language education. MC was well organised in creating extensive and fun activities every day and able to make my students' days more colourful with the energetic and friendly activity leaders."
Günes – Group Leader from Turkey
"Our daughter had spent 14 days in your summer school. She was so happy there and she liked it very very much. She was even sad to come home, because she missed her new friends and the school…and everything. I want to thank you so much for what you do for all these young people. It's such a good organisation, you have my great respect and my congratulations."
Odile and Robert – parents of Caroline, student
"My school has sent our students almost every year since 1989. I like MC because they take good care of us. All the students who took part in MC say that they had a wonderful experience there. The staff always care about the students' safety. I think it is a warm and comfortable atmosphere to experience summer courses."
Noriko – Group Leader from Japan
"I wanted to say thank you to everyone that I met at the school, because I had a great time this two weeks and I have never met so many nice people at the same time."
Eduardo – student