A WONDERFUL OPPORTUNITY TO STUDY PERFORMANCE IN A SUPPORTIVE AND CREATIVE ENVIRONMENT, AND PERFORM IT ALL ON STAGE AT THE END
NEW! Manor Courses offers 7 and 14 day immersive courses in the performing arts, created for aspiring performers of all abilities (aged 8-17 years old).
Supported by an experienced team of trained teachers with backgrounds in the performing arts, this fun and exciting course will develop your skills and expertise. With a jam-packed timetable, you will work with professionals exploring dance, acting and singing and whatever your interest our courses will broaden and develop your skills and interests and help you gain the confidence to push the boundaries of what you can do.
This is not one of our English Courses, but it is considered an 'academic course'.

Our Course:
Begins with guided discovery
Progresses to skills development sessions
Involves students in preparation
Ends with students expressing themselves in a final performance
Students take part in all stages and take records of the process home.
Objectives
This unique training encourages students to broaden and develop in a wide range of different ways. Personal objectives include:
BUILD confidence
INSPIRE spontaneity
STIMULATE imagination
DEVELOP stage technique
DEMONSTRATE self-discipline
ENHANCE critical thinking skills
ENCOURAGE natural self-expression
IMPROVE language and speech skills
INCREASE general performance potential
REINFORCE social and team working skills
ESTABLISH SOMETHING achievable to aim for
IMMERSE in world renowned high-brow and pop culture
IMPROVE language and speech skills
ENJOY the chance for your talent to be witnessed and celebrated!
Course Fees: £1050 for individual enrolments on the Course between 1st and 8th August. Agents should email us at info@manorcourses.co.uk for the latest fees. Fees can be discounted for larger groups and / or longer courses, plus 1 free leader place for every 15 students.
Transfers: Gatwick arrivals and departures are included. Heathrow transfers cost an extra £190.
Deposit: £500.00.
When: Between 1st and 8th August for individual enrolments. However, there is a minimal requirement of enrolments for us to offer the course.Between July 4th and August 8th  2019 for closed groups. 
Location: Manor Courses International Summer School – Hurst College – West Sussex
Course Length: 7 days or 14 days.
For: Students with an interest in the performing arts aged between 8 & 17 years old. There is no minimum requirement for English abilities. We will instruct beginners to advanced level English speakers.
Content: 38 hours of programme activities. Fully immersive programme with an emphasis on discovery, skills development and expression. We consider this an 'academic course'.
Instructors: Qualified and enthusiastic residential teachers and leaders. All staff are police checked in UK or abroad.
Deadline to enrol: Before June 1st 2019.
Group size: Minimum requirement of 10 or more students to run this Course.
Facilities: Including a fully equipped dance studio and 250 seat theatre equipped with a professional lighting and sound system for performances and lessons.
Visits: Regular excursions are included with entrance to relevant attractions, eg. museums, theatres etc.
Certification: Study materials and graduation ceremony with course certificate and report.
Please note: If fewer than 10 students have enrolled by June 2nd we will unfortunately have to cancel the Course and offer students the standard MC Residential English Language Course 2 week package (with a 10% discount for the inconvenience) or a full refund.
Accreditation: The Performing Arts Course is different to our standard Residential English Language Course (which is a General English Course and is accredited by the British Council). It is not accredited by the British Council.
Included in the Fees:

The same Welfare services as our standard Residential English Language Course (ie. full board, meals, snacks, laundry).
The same Excursion services (2 trips per week, entrances included to 1 attraction per Excursion, which form the 'Visit' part of our Performing Arts Syllabus).
All Materials, plus any items produced by students.
Certificate and Report.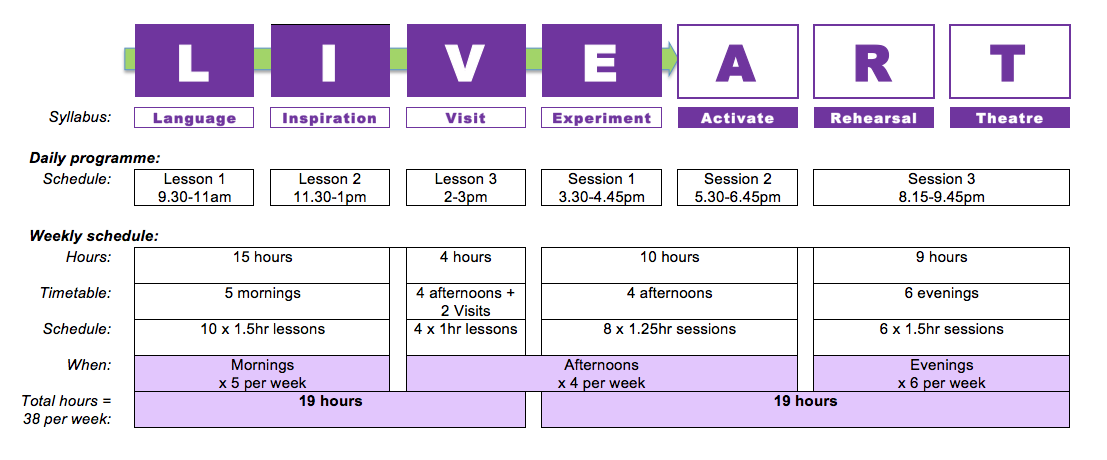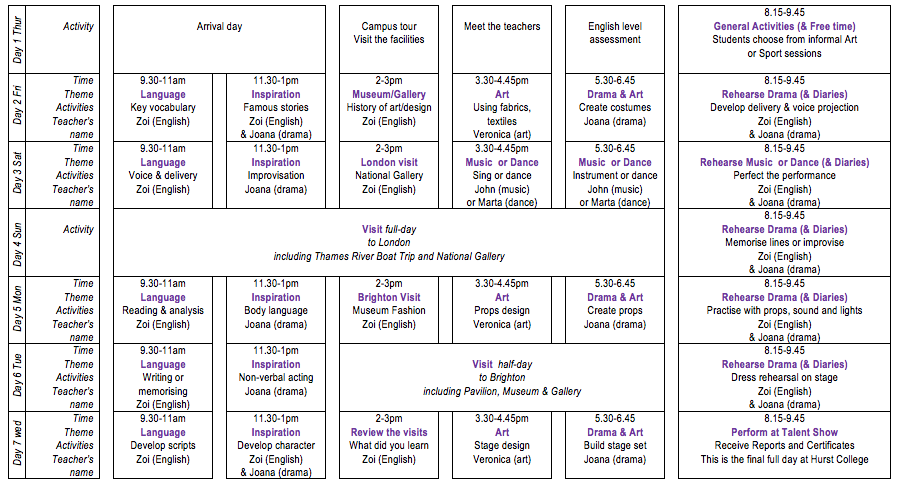 Get a flavour for what you can expect at
Manor Courses

.
Get in touch about our Performing Arts Course